Printings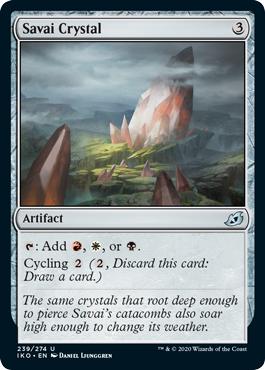 Comments
English printing
Artifact
: Add , , or .
Cycling (, Discard this card: Draw a card.)
The same crystals that root deep enough to pierce Savai's catacombs also soar high enough to change its weather.
French printing
Artefact
 : Ajoutez , ou .
Recyclage (, défaussez-vous de cette carte : Piochez une carte.)
Ces cristaux s'enfoncent suffisamment en profondeur pour percer les catacombes de Savaï, mais ils montent également suffisamment haut pour influencer son climat.
Oracle
Savai Crystal
Artifact
{T}: Add {R}, {W}, or {B}.
Cycling {2}