Printings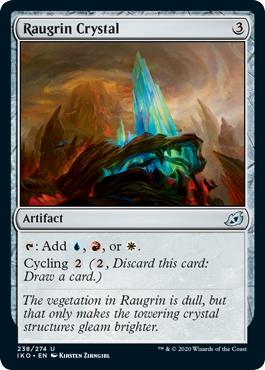 Comments
English printing
Artifact
: Add , , or .
Cycling (, Discard this card: Draw a card.)
The vegetation in Raugrin is dull, but that only makes the towering crystal structures gleam brighter.
French printing
Artefact
 : Ajoutez , ou .
Recyclage (, défaussez-vous de cette carte : Piochez une carte.)
La végétation de Raugrin est pauvre, mais cela fait briller les structures cristallines encore plus fort.
Oracle
Raugrin Crystal
Artifact
{T}: Add {U}, {R}, or {W}.
Cycling {2}