Printings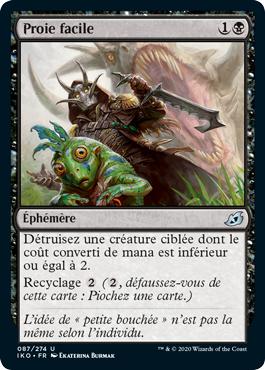 Comments
French printing
Éphémère
Détruisez une créature ciblée dont le coût converti de mana est inférieur ou égal à 2.
Recyclage (, défaussez-vous de cette carte : Piochez une carte.)
L'idée de « petite bouchée » n'est pas la même selon l'individu.
English printing
Instant
Destroy target creature with converted mana cost 2 or less.
Cycling (, Discard this card: Draw a card.)
The definition of "bite-sized treat" depends on who you ask.
Oracle
Easy Prey
Instant
Destroy target creature with converted mana cost 2 or less.
Cycling {2}