Printings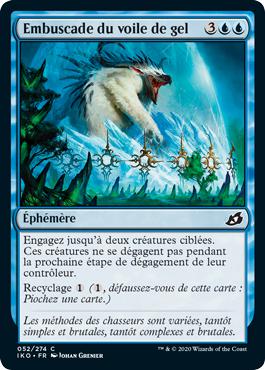 Comments
French printing
Éphémère
Engagez jusqu'à deux créatures ciblées. Ces créatures ne se dégagent pas pendant la prochaine étape de dégagement de leur contrôleur.
Recyclage (, défaussez-vous de cette carte : Piochez une carte.)
Les méthodes des chasseurs sont variées, tantôt simples et brutales, tantôt complexes et brutales.
English printing
Instant
Tap up to two target creatures. Those creatures don't untap during their controller's next untap step.
Cycling (, Discard this card: Draw a card.)
Hunters' methods vary from simple and brutal to elaborate and brutal.
Oracle
Frostveil Ambush
Instant
Tap up to two target creatures. Those creatures don't untap during their controller's next untap step.
Cycling {1}
Rulings
Frostveil Ambush can target a creature that's already tapped. That creature won't untap during its controller's next untap step. [0000-00-00]