Printings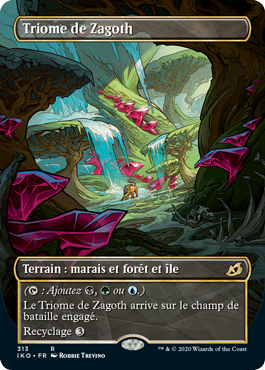 Comments
---
French printing
Terrain : marais et forêt et île
( : Ajoutez , ou .)
Le Triome de Zagoth arrive sur le champ de bataille engagé.
Recyclage (, défaussez-vous de cette carte : Piochez une carte.)
Les chasseurs des marais primaires apprennent à interpréter les ondulations de l'eau pour savoir quand il faut traquer et quand il faut fuir.
English printing
Land — Swamp Forest Island
(: Add , , or .)
Zagoth Triome enters the battlefield tapped.
Cycling (, Discard this card: Draw a card.)
Hunters in the primeval wetlands become fluent in reading the ripples to tell when to pursue and when to flee.
Oracle
Zagoth Triome
Land — Swamp Forest Island

Zagoth Triome enters the battlefield tapped.
Cycling {3}