Printings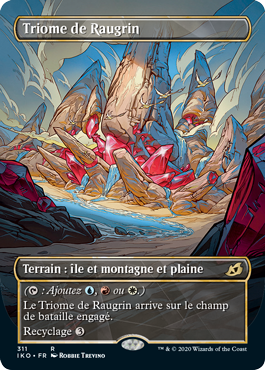 Comments
---
French printing
Terrain : île et montagne et plaine
( : Ajoutez , ou .)
Le Triome de Raugrin arrive sur le champ de bataille engagé.
Recyclage (, défaussez-vous de cette carte : Piochez une carte.)
Raugrin rejoint l'océan, la gueule grande ouverte. Sa côte est jonchée de crocs de cristal et de granite.
English printing
Land — Island Mountain Plains
(: Add , , or .)
Raugrin Triome enters the battlefield tapped.
Cycling (, Discard this card: Draw a card.)
Raugrin meets the sea with jaws wide, its coast spiked with teeth of crystal and granite.
Oracle
Raugrin Triome
Land — Island Mountain Plains

Raugrin Triome enters the battlefield tapped.
Cycling {3}