Printings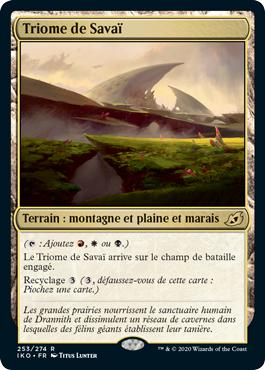 Comments
---
French printing
Terrain : montagne et plaine et marais
( : Ajoutez , ou .)
Le Triome de Savaï arrive sur le champ de bataille engagé.
Recyclage (, défaussez-vous de cette carte : Piochez une carte.)
Les grandes prairies nourrissent le sanctuaire humain de Drannith et dissimulent un réseau de cavernes dans lesquelles des félins géants établissent leur tanière.
English printing
Land — Mountain Plains Swamp
(: Add , , or .)
Savai Triome enters the battlefield tapped.
Cycling (, Discard this card: Draw a card.)
Broad prairies feed the human sanctuary of Drannith and conceal a network of caverns where giant cats make their dens.
Oracle
Savai Triome
Land — Mountain Plains Swamp

Savai Triome enters the battlefield tapped.
Cycling {3}