Printings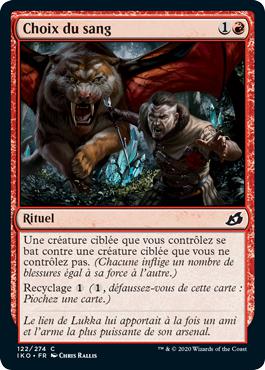 Comments
French printing
Rituel
Une créature ciblée que vous contrôlez se bat contre une créature ciblée que vous ne contrôlez pas. (Chacune inflige un nombre de blessures égal à sa force à l'autre.)
Recyclage (, défaussez-vous de cette carte : Piochez une carte.)
Le lien de Lukka lui apportait à la fois un ami et l'arme la plus puissante de son arsenal.
English printing
Sorcery
Target creature you control fights target creature you don't control. (Each deals damage equal to its power to the other.)
Cycling (, Discard this card: Draw a card.)
Lukka's bond provided not only friendship, but also the most powerful weapon in his arsenal.
Oracle
Go for Blood
Sorcery
Target creature you control fights target creature you don't control.
Cycling {1}
Rulings
If either target is an illegal target as Go for Blood resolves, no creature will deal or be dealt damage. [0000-00-00]