Printings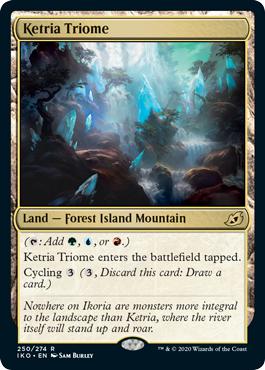 Comments
---
English printing
Land — Forest Island Mountain
(: Add , , or .)
Ketria Triome enters the battlefield tapped.
Cycling (, Discard this card: Draw a card.)
Nowhere on Ikoria are monsters more integral to the landscape than Ketria, where the river itself will stand up and roar.
French printing
Terrain : forêt et île et montagne
( : Ajoutez , ou .)
Le Triome de Ketria arrive sur le champ de bataille engagé.
Recyclage (, défaussez-vous de cette carte : Piochez une carte.)
Sur Ikoria, les monstres font partie intégrante du paysage. C'est d'autant plus vrai à Ketria, où la rivière elle-même se dresse pour rugir.
Oracle
Ketria Triome
Land — Forest Island Mountain

Ketria Triome enters the battlefield tapped.
Cycling {3}