Printings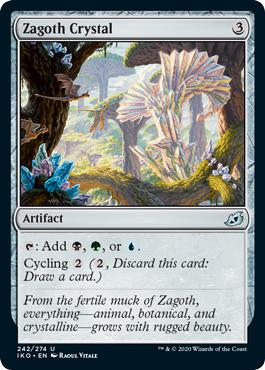 Comments
English printing
Artifact
: Add , , or .
Cycling (, Discard this card: Draw a card.)
From the fertile muck of Zagoth, everything—animal, botanical, and crystalline—grows with rugged beauty.
French printing
Artefact
 : Ajoutez , ou .
Recyclage (, défaussez-vous de cette carte : Piochez une carte.)
Toute la beauté rustique de Zagoth, animale, végétale ou cristalline, est née de sa boue fertile.
Oracle
Zagoth Crystal
Artifact
{T}: Add {B}, {G}, or {U}.
Cycling {2}