Printings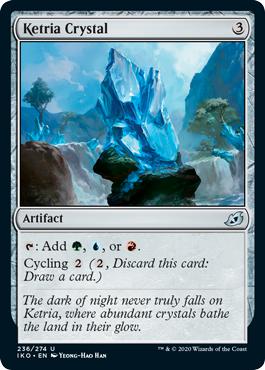 Comments
English printing
Artifact
: Add , , or .
Cycling (, Discard this card: Draw a card.)
The dark of night never truly falls on Ketria, where abundant crystals bathe the land in their glow.
French printing
Artefact
 : Ajoutez , ou .
Recyclage (, défaussez-vous de cette carte : Piochez une carte.)
La nuit n'est jamais vraiment totale sur Ketria, car de nombreux cristaux baignent les terres de leur lueur.
Oracle
Ketria Crystal
Artifact
{T}: Add {G}, {U}, or {R}.
Cycling {2}