Printings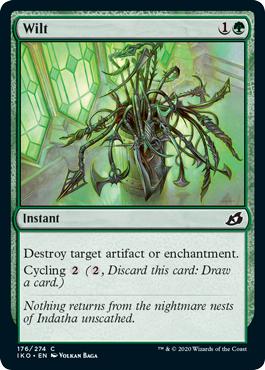 Comments
English printing
Instant
Destroy target artifact or enchantment.
Cycling (, Discard this card: Draw a card.)
Nothing returns from the nightmare nests of Indatha unscathed.
French printing
Éphémère
Détruisez l'artefact ciblé ou l'enchantement ciblé.
Recyclage (, défaussez-vous de cette carte : Piochez une carte.)
Rien ne revient indemne des nids cauchemardesques d'Indatha.
Oracle
Wilt
Instant
Destroy target artifact or enchantment.
Cycling {2}