Printings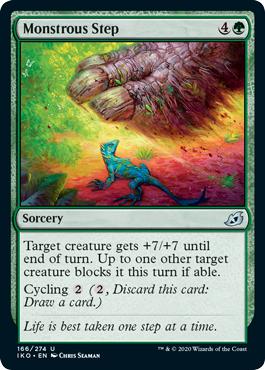 Comments
English printing
Sorcery
Target creature gets +7/+7 until end of turn. Up to one other target creature blocks it this turn if able.
Cycling (, Discard this card: Draw a card.)
Life is best taken one step at a time.
French printing
Rituel
La créature ciblée gagne +7/+7 jusqu'à la fin du tour. Jusqu'à une autre créature ciblée la bloque ce tour-ci si possible.
Recyclage (, défaussez-vous de cette carte : Piochez une carte.)
Dans la vie, mieux vaut avancer pas à pas.
Oracle
Monstrous Step
Sorcery
Target creature gets +7/+7 until end of turn. Up to one other target creature blocks it this turn if able.
Cycling {2}
Rulings
If the second target creature can't block the first target creature for any reason (such as being tapped), then it doesn't block. If there's a cost associated with having it block the creature, the player isn't forced to pay that cost, so it doesn't have to block in that case either. That creature is free to block another creature or to not block at all. [0000-00-00]
If a creature is required to block a creature with menace, another creature must also block that creature if able. If none can, the creature that's required to block can block another creature or not block at all. [0000-00-00]
Creatures other than the second target creature may still block the first target creature if able. [0000-00-00]